Photography as a whole is a big subject. It has many branches or subtopics like wedding photography, food photography, landscape photography, wildlife photography, etc. If you are a beginner and want to try to hand at wildlife photography we have compiled a post to choose the best camera for wildlife photography.
When we choose wildlife photography we need to consider certain things before buying a camera.
1. Auto Focusing(AF) Points.
Animals are fast and they do not stay at one position to have a perfect shot. As they are not stationary the photo taken by you may become blurry if the focal point is missed.
In such circumstances, AF points make the difference, they literally adjust the focal point according to the movement of the object. All modern cameras nowadays come with 40 and more AF points.
2. Frame Rate Per Second(FPS).
It is the number of frames your camera can take per second. More the FPS is better for wildlife photography. You will not have to worry while taking the perfect shot of an animal catching prey. The newest camera has more than 5 fps and they are cheap.
3. ISO or Light Sensitivity
More the ISO number is better for shooting in low light. It is the image sensor present in the camera. Starts from 100 which is for daylight photography and goes up to a high number as the light decreases. One disadvantage of high ISO is that at high ISO the image becomes noisy. All new camera has iso more than 3200 which is good for indoor photography.
4. Full Frame or Cropped
Full frame cameras are costly while cropped frame cameras are cheap. It is the use of a full frame that makes low-light photography awesome. FF Camera is used mainly for landscape photography as the frame needs to be bigger. APS-C or Cropped frame cameras are better for wildlife photography as it lets you close to the subject with less money spent on a lens.
5. Durability
When you are new to photography it will happen many times you will drop your camera. If your camera is built of low-quality material it will not be able to withstand even the first fall. Nikon and Canon cameras though made of plastic, are durable and survive on a little spill of rain.
6. Lens Compatibility
Your camera should be compatible with most of the lens. In wildlife photography, you will need different sizes of the lens. At one point you may like to snap a butterfly on a flower near to you and at another point, you may want to shoot a bird on a distant tree branch.
7. The weight of the Camera
You do want to carry a heavy camera while tracking birds on a mountain. The lighter the camera it will be easy for you to carry the camera hanging on your neck. The cameras we covered here all are less than 2 pounds.
Here are recommendations: awesome, durable, lightweight, budgeted DSLR cameras CANON EOS 80D, Nikon D7200, Canon ESO 70D, Nikon D750, Nikon D5600.
1. CANON EOs 80D
It has 24.2MP APS-C CMOS Sensor and DIGIC 6 Image Processor. DIGIC 6 is found only in canon cameras which makes it perfect for low-light photography. DIGIC 6 has also other functions like better face recognition. A 3.0″ 1.04m-Dot Vari-Angle Touchscreen. It can record Full HD 1080p Videos at 60 fps. 45 Cross-Type AF points detect subjects in the frame easily and never go out of focus. The ISO can be Expanded up to 25600 and the 7 fps Shooting will give you perfect shots. Added features are Built-In Wi-Fi with NFC and RGB+IR 7560-Pixel Metering Sensor.
Why it is good for Wildlife Photography beginners 
It is good for wildlife photography because of all the features you get for this price tag. It can shoot photos in 7 FPS which is decent for a wildlife photography beginner. Even the costliest camera has 10 to 14 FPS only.  Built-in Wifi and NFS can help you to send files on the go.
2. Nikon D750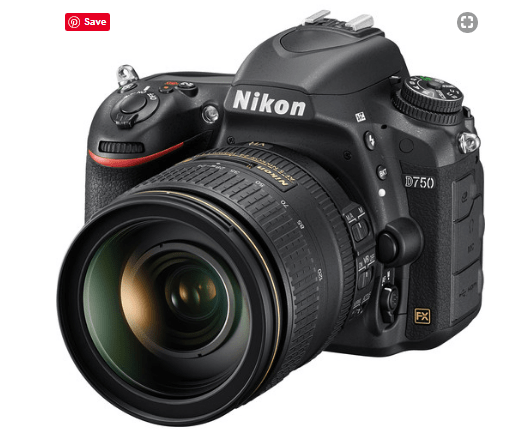 This is not the best camera for wildlife but it has everything for a beginner. It is so lightweight that it weighs only 1.12 pounds. It has a 24.2 MegaPixel APS-C sensor which can take great photos with a less heavy lens. It comes with a three-inch LCD screen where you can see photos taken by you.
Why it is good for Wildlife Photography beginners 
It has built-in wifi and NFC to connect with your nearby devices and you can transfer your image files easily.  The 19 cross-type AF points guarantee you your photo will not be out of focus. For a wildlife photographer, AF points are very important to take the perfect shots.
The lightweight camera body is perfect for a beginner while tracking mountains for animals.
Conclusion
To choose the best among the listed above first, jot down your budget and requirements. Do not worry if the price is still high for you. You can still buy a second-hand one from friends and family just to start your photography journey. It takes time to become a master of photography.
Photography can be improved if you try and learn. Go out shooting with your camera even if you do not know much about photography techniques.
The following two tabs change content below.
Ankurman Handique
A wildlife lover loves to spend time with nature.
Latest posts by Ankurman Handique (see all)