Birds are the animals that many people want to have as a pet. Birds in the natural habitat look amazing to watch. Many take it as a hobby to watch birds in the wild and they are known as birders or bird watchers.
At present roughly there are more than 10,000 species of birds in nature. To remember most of their names is almost impossible. And identify them in the woods you will need to know and distinguish the characters of that bird. Remembering all the features of a bird, like feather color, design, tail, plumage is difficult. So, a bird identification app can do the magic by helping you identify birds that you have seen for the first time.
MORE POSTS: BIRDS THAT START WITH U
Different bird identification applications can be used in different ways. Some can be used to see pictures of birds, and listen to bird sounds and some applications provide all the descriptions of a bird.
[toc]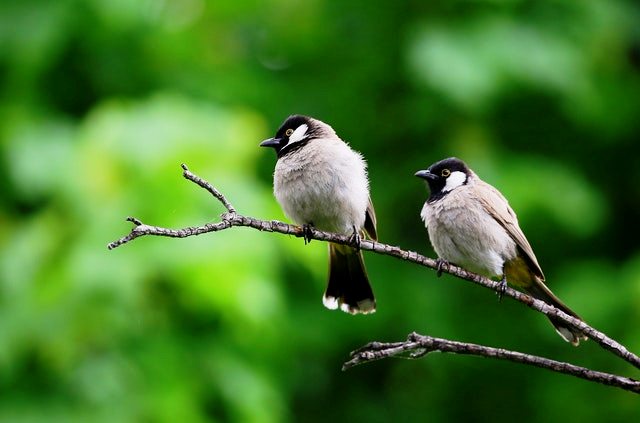 Best Bird Identification Apps by Picture
These apps help you to identify new birds as soon as you upload a picture of it. Using AI they can read through all the details of the photo and brings you the nearest matching bird.
Merlin Bird ID
Available in both Android and Apple versions, this app is built by the Cornell Lab of Ornithology for bird watchers.
This app has a database of about 40,000 bird pictures and bird packs for the United States, Canada, Central America, Mexico, Britain, Ireland, Western Europe, Australia, and Asia. Bird packs contain photos, songs, and calls, and identification help for many regions as mentioned above.
Regional packs covering a particular region of a country are also available for the United States, Canada, and Mexico.
Merlin Bird ID app also works when you answer a few questions related to the bird that you have just seen. After you have put your questions, Merlin gives you the list of birds best match your description. From there, you can go on finding photos, sounds, and calls of the bird for more pieces of information. Your phone's GPS helps to give you an accurate bird ID based on the data available about a particular bird found at that location.
Download for Android and iPhone.
MORE POSTS: BIRDS THAT START WITH K AND HAVE 10 LETTERS
Audubon Bird Guide
This app has no such AI-powered feature to identify birds from photos. But, it has a great collection of photos and sounds of North American birds. A total of 800 species of North American birds can be found in the app's database.
You can keep track of the birds that you see using the redesigned sightings feature of the app.
To identify a bird enter the bird size, color, and tail details, and the Audubon Bird Guide app will show you the possible matches from location information, and date of seen uploaded by other Audubon users.
Audubon helps to make friends with other birders of North America. This way you can join bird-watching camps happening around the different states of the United States.
This free bird-watching app is available for both Android and iPhone.
iBird Pro
As the name suggests it has an app-in-purchase feature where you pay a minimal fee for the active "Bird Photo Sleuth" feature. This enables us to identify birds from photos using the AI system that finds the most accurate list of birds matched with your photo.
Currently, iBird Pro is available in North America and UK.
One advantage of iBird Pro over other birding apps is that it provides both photos and illustrations of the birds found in a particular area. And illustrations are of high quality.
A total of 4000 bird's songs and calls are available in the app database.
Download for Android and iPhone.
MORE POSTS: 10 INTERESTING FACTS ABOUT PEACOCK MANTIS SHRIMP
Best Bird Identification App by Sound
Apps that can let you find bird ID using their sound, and calls recorded in the wild. Unlike photographs, the sound of birds needs to be clear to get recognized by the system.
Bird Song Id USA
Same as the Merlin Bird ID app, the Bird song ID USA app uses AI to recognize any bird's song and presents the best matching bird ID.
Point the microphone of the mobile toward the bird and record it at least for 30 seconds. It is found that this app gives about 85% of the bird's IDs correct.
The AI is still learning and as time passes more sound samples will be added, in the future, it will give more accurate results.
Download for Android and iPhone.
Bird field guide book Apps
Birding Apps which can be used in the field as a guide to identifying birds. It is worth carrying an app rather than a heavy guide book which is hard to carry and search a piece of particular information.
Collins Bird Guide
Collins Bird Guide App has covered 700 European species of birds. The collection includes 3500+ illustrations, concise texts, maps, 750 calls, and songs.
It also shows bird species name in 18 languages.
You can also record sighting date, location in a beautifully designed interface.
Download for Android and iPhone.
GoBird
Built by a birder for a birder. Simple design and easy to navigate. The most interesting part of this app is that you can use it anywhere in the world as it is built for all locations.
A total of 8600 species of birds are covered with 10,000+ high-resolution pictures, 150,000 bird songs, and calls. GoBird also provides information about the sighting location on the map.
Download for your Android or iPhone.
BirdID
BirdID is an interactive app. You can play quizzes at the same time learn about birds. At present, it supports more than 30 different languages. The app database has information about 380 Western Palearctic bird species and they are willing to add more in future updates.
Download for Android or iPhone.
Australian Bird Identification Apps
Australia is one of the most biologically diverse country and it is rich in diverse wildlife. It is home to about 900 species of birds. Identifying all these birds is not easy without a help. Bird identification apps can make this task lot easier for birders.
Morcombe's Birds of Australia
This app is a gem for Australian birders, it gives access to Michael Morcombe's 'Field Guide to Australian Birds' which describes 800 species of birds found in Australia. It also includes over 3000 high-quality illustrations and drawings of birds.
And about 1800 sounds of birds.
To identify a bird you need to go through the drawings and descriptions provided for each bird. A search feature that lets you find bird ID by searching a particular characteristic is also enabled in the app.
This app is available for both Android and iPhone for a one-time fee.
The following two tabs change content below.
Ankurman Handique
A wildlife lover loves to spend time with nature.
Latest posts by Ankurman Handique (see all)